How is your day going? Are you having primary stress through an adverse or demanding experience? Are you having secondary traumatic stress through witnessing or hearing about others adverse or traumatic experiences? It's likely that you or someone you know is having a stressful day. "About eight in 10 Americans say they frequently (44%) or sometimes (35%) encounter stress in their daily lives" (Gallup, 2017). To help alleviate stress and live happier, safer, more productive lives, this is the final of a three-part series about:
secondary traumatic stress,

the impact of stress on ourselves and our school communities,

individual stress symptoms and warning signs, and

self-care strategies to prevent and alleviate stress.
The World Health Organization considers stress a worldwide epidemic. This stress impacts us individually and our communities at-large, including our educational system. Use the sentence starters and questions below for self-reflection and to spark necessary dialogue to impact sustainable change related to preventing and mitigating stress. It is important to understand what is helpful or unhelpful in times of stress, and likewise to understand this of others. The deeper understanding of stress will help prevent retriggering or retraumatizing self or others, and prevent or mitigate future or current stress respectively. Your reflection and dialogues will depend on who the conversations are with and their role or relationship to you. For example, you can talk about stress with your colleagues, family, friends, supervisors, and students. Your approach to the conversation, and what you need from someone when you are stressed, will change accordingly.
When I'm stressed, please don't… Ask me over and over again what's wrong!
What annoys you or is unhelpful for you when you are experiencing stress? There might be some similarities to the list below (middle column) but only you know what doesn't feel helpful for you during stressful moments. Understanding how not to approach someone in a time of stress can help prevent future triggers and alleviate their symptoms. Have your students complete this as well to inform their peers and teachers about how they would rather not be approached in stressful situations.
When I'm stressed, I appreciate when… Someone brings me a healthy snack!
What is helpful to you when you are stressed? Perhaps this will be small and help address a symptom of stress, or maybe it will be able to help address the root cause of your primary or secondary stress. Again, there might be some similarities to the list below (right column) but only you can say what you want and appreciate from others during times of stress. Invite your students to complete this as well to inform their peers and teachers about how they prefer to be approached.
What are some organizational changes to consider?
Creating trauma-informed, culturally-sensitive, equitable, safe, and supportive schools is an ongoing process. This must be at the forefront of school and district priorities to ensure effective, creative, and safe teaching and learning occur. Move This World's recent white paper, co-authored with Dr. David Osher of the American Institutes for Research, provides a comprehensive overview of classroom, school, and district changes to consider. Additionally, the National Center on Safe Supportive Learning Environments has a Secondary Traumatic Stress and Self-Care Packet to help decide organizational next steps related to stress.
Some school and district-wide strategies for preventing and alleviating stress can include:
Providing opportunities for team and community building.

Offering trauma-informed social emotional learning training for staff and community members.

Providing, or connecting, school and district members to professional support (i.e., mental health providers).

"Adopt policies that promote and support staff self-care" (SafeSpace, 2019).

Promote trauma-informed practices and mindset shifts.

Provide the opportunity for staff to complete and share the charts in part two and three (below) of this series – so that they are spending time understanding their own signs of stress, self-care, and creating workplace strategies.

Create a culture of ongoing education and dialogue related to primary and secondary traumatic stress.
The chart below will help you revisit your warning signs of primary and secondary stress, in order to identify how you want and need others to respond to you in times of stress. The three components of the exercise will prompt you to record:
Your warning signs of stress (refer to your self-care chart from part two),

Tips for others about how not to interact to you while you are stressed,

Tips for others about what is and will be helpful for you while you are stressed.
You can adapt your responses and discussion to appropriately engage anyone in a conversation around stress and your needs, including colleagues, supervisors, students, friends, and family members.
Step 1: Fill-out the three columns to match what is true for you; use examples below for a point of reference.
Step 2: Exchange, share, and discuss</strong > with members of your support network and community.
Print out a blank stress response chart here.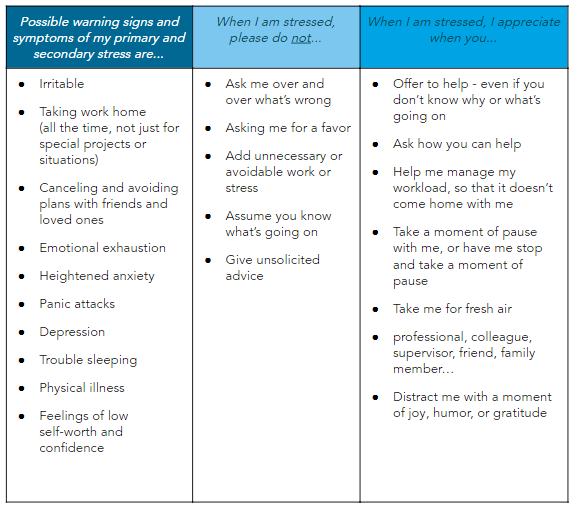 Sign up for Move This World's newsletter to stay up to date on social emotional learning.
Enter your email below